Hiked about 20mi in the Redwoods yesterday. Perfect day: sunshine, warm but not too warm, still lots of water from recent rains so everything was very lush and green. Here is a picture of Berry Creek Falls. It doesn't actually do it justice. The sunlight came down at just the right angle to make the entire fall look like it was raining diamonds, particularly on the left where little drops would trickle down like a intricate veil along the vegetation.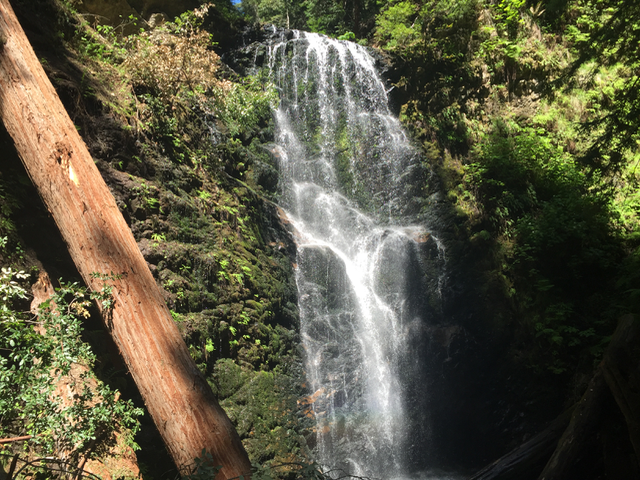 I started just after sunrise at about 6:25m am from Waterman Gap above Saratoga. Got to Big Basin headquarters before the snack shop opened at 10:00. Had to wait for coffee!! Took a break, then continued the Skyline-to-the-Sea Trail by Berry Creek Falls down to the Pacific coast at Waddell Beach. Very nice hike.
Depending on which map I choose to believe, these two thirds of the Skyline-to-the-Sea trail were between 18 and 22 miles. Took me 7h 15min of hiking time including short breaks but not counting the long mid-day break. I hadn't been sure I could do the entire length of the trail in one day, but next time I probably will. While there is some occasional scrambling over rocks and fallen trees, there aren't any serious hills to climb, and long stretches of the trail are basically flat to walk. So as hiking trails go, on average, it's not a very streneous trail.
We're so lucky that an urban area like Silicon Valley that houses millions of people has a 30 mile wilderness trail within such a short distance.