Things nobody tells you about hiking Mt Whitney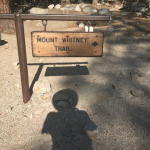 I managed to summit Mount Whitney in a day this week. It was my first time on the mountain and the first time camping at Whitney Portal. Here is a collection of things I learned which I wish I would have known beforehand. Posted in the hope that it may be useful to others:
There are three (!) campgrounds at Whitney Portal, not just one as the official park service website makes you believe. The other two are walk-in-only campgrounds, so you cannot make reservations, and that's probably why recreation.gov does not list them. So if the reservable campground is full when you want camp at the Portal, don't panic.
When I called, the ranger told me I should not worry, the "walk-in campground never fills up". This turned out to be more than true. In the three nights I spent this week (early August, prime season!) at Whitney Portal, I had the Ravine walk-in campground all to myself, and I believe the main walk-in campground wasn't particularly full either. Only in the first night was there one other party in the Ravine campground; the other two nights it was just me, and 9 other empty campsites. I liked that a lot; for one, I could sleep early without being disturbed on the night of the hike.
The easier-to-reach walk-in campground is $13 per site and night. You reach it by going up from the overflow parking lot up the mountain towards the west (or come down from the main parking lot). The Ravine walk-in campground is $11 per site and night. It is a bit harder to reach: park in the overflow parking lot, and head down the mountain on an almost-unmarked trail towards the east. Unless you know that there's a campground there, nobody will tell you, there is no sign. There's a big sign once you get to the campground, but not on the way to the campground. Also, there is no way of driving your car to the campsite, which may or may not be a problem for you. It wasn't for me: two trips back to the car were enough to get all my stuff.
All the parking lots have scary-looking signs "do not park overnight without a permit" but then they don't tell you what kind of permit you need and how to get one. I believe you need to 1) either be registered in one of the campgrounds, and put half of the self-registration form on the dashboard of your car, or 2) have a Whitney hiking permit for the night in question. When you pick that up in Lone Pine, assuming you got a ticket in the lottery, they give you a letter that you can put on the dashboard of your car. In other words, there is no "parking permit" as the signs seem to imply, there's only a campsite registration or a hiking permit.
From what I saw and heard, people seem to start their day hikes to Whitney either just after midnight, or just after 2am. If you start at either time, there will be plenty of other hikers on the trail. If you are concerned that you might not be able to find the trail in the dark, or stay on it with a flashlight, simply go at those times and tag along. Admittedly it was a little surreal looking around from a pitch-black trail in the middle of the night during a new moon, as in my case, and seeing lots of tiny little lights in a line spiraling up the mountain.
The whole trail is more like a party bus than a wilderness hike in solitude. Even if you hike solo, like I did, you will rarely be alone. So you don't need to be concerned that you are all alone; however, whether strangers help you if you need help, that's a different question.
Although the hike is extremely popular, there are no emergency facilities of any kind anywhere. There is no way of calling in rescuers either as cell phone coverage is mostly non-existent and there is no other way of communicating either. A young woman in a hiking group I made friends with on the trail got severe problems with altitude. They managed to get her airlifted out by helicopter, but only because by sheer chance, there was a ranger on the trail who could call in the helicopter. Without that lucky chance, who knows what could have happened to her. So don't be deceived; it may look and act like a party bus, but it is one without emergency brakes, six or eight hours of hard walking and 6000ft+ of altitude away from civilization.
Once you reach the ridge after the 99 switchbacks, the maps says the trail is mostly flat. If you were to think, like I did, that this would make it an easy stretch, you would be wrong. While it is indeed mostly flat, the trail isn't so much a trail than a series of pieces of granite to scramble over. They call it as "class 1" hike all the way to the top, but I definitely used my hands in addition to my feet on that "flat" section. This section is more strenous than most other sections of the trail.
The danger of vertigo and too much "air" on the sides of the trail on the ridge, on the other hand, seemed overstated in what I had read. There are only a very few spots where the cliffs are indeed really steep next to the trail; in those cases the trail is at least 3 feet wide, and if you keep your eyes on the trail, you won't even see those cliffs.
There's a $0.99 Mount Whitney app for the iPhone and for Android. If you take your smartphone anyway, get the app. It uses GPS to tell you exactly where you are on the trail, what altitude you are at, how far to the next landmarks etc. That doesn't mean you shoulnd't bring a map. After all, electronics fail, but it sure makes life easier when you are all exhausted telling you just how far you still have to go, and whether you are still on the right trail.
There's enough water on the trail that you don't need to start out with full bottles, as long as you are bringing a filter/pump. This saves energy because you can pump/filter when you need more water. I filled bottles totalling 3.75 liters (just over a gallon) at Trail Camp, for the 99 switchbacks, ridge, summit and back, and that was a good amount. Don't leave Trail Camp with less than 3 liters. During the day, I drank more than 2 gallons of water (with electrolyte additions) in total. It sounds insane, but I never felt overhydrated.
But the most-important part of what I learned the hard way I saved for the end:
"Acute Mountain Sickness" does not work like this, which so many books and blog posts make you believe: you hike up, and at some point, you get a headache, and various other malaises, so you stop your hike, hike down 1000 ft or so, and recover fairly quickly. End of story. Fairly simply to deal with, right, as long as you are willing to abort your hike? The trouble is, it may not be true.
Instead, "Acute Mountain Sickness" might look like this: you hike to the ridge at 13,600ft on the way to Mt Whitney, and you feel great. However, the AMS might have started already, you just don't feel it yet because symptoms like headache may be delayed by several hours! (Few people tell you that!) You keep hiking the ridge towards the summit, which you might reach 2 or 3 hours later. Once you reach the summit, you get your AMS symptoms, but not because you are too high at 14,500 ft, but because you had been too high since, say, 13,000 ft and three hours earlier! You just hadn't realized it yet! Now you decide to descend quickly, but you can't because you have to hike back on that almost-horizontal ridge, now much more slowly because you are sick! And then you have to descend at least 1000 ft to below where your ALS problem started, which may add many more hours of hiking. And even once you get to an altitude where your body can recover, it might take 24 hours to recover! During all that time, measured in half or full days, not hours, you will be a bundle of misery, or worse (as AMS can have serious consequences as I'm sure you have read), and probably not up to finishing that "day hike" in a day, regardless of your level of physical fitness. So all of a sudden you find yourself staying overnight somewhere on the mountain, without proper equipment because it was supposed to be a day hike, and being seriously ill. Not a situation you want to be in.
If I had known that, I would have spent a lot more time acclimatizing before doing the "day hike", such as: Day 1: leisurely day at Whitney Portal. Day 2: Hike up 3000ft, and hike back down to the Portal on the same day. Day 3: Backpack in and camp out at higher altitude. Day 4: Another day hike 3000ft up or so from the new base camp. Day 5: Actual Whitney hike. And of course, only if you have no symptoms whatsoever of altitude problems.
The good news is that I made it to the summit and then down the mountain in one piece. The landscape is simply amazing, it's a cool adventure and it's totally worth it.