Bye, bye, Spotify! It was nice while it lasted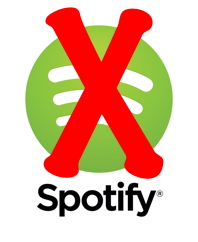 I have been a Spotify user for years. They don't offer all the world's music, but it is close. Recordings that I never would have bought, and so I never would have heard, just a click away. Absolutely amazing. World-altering, for music lovers.
Now I'm leaving. Why? Because not even the NSA is accused of spying as much on me as you want to in your new privacy policy, and I use the word "privacy" in the Orwellian way here. (h/t @iblametom at Forbes):
This is still sort of normal, albeit aggressive:
username, password, email address, date of birth, gender, address, postal code, and country… mobile phone number and mobile service provider… your [social media] name, profile picture, country, hometown, email address, date of birth, gender, friends' names and profile pictures, and networks.
And this is where it goes way beyond:
we may collect information stored on your mobile device, such as contacts, photos, or media files… GPS location or other forms of locating mobile devices (e.g., Bluetooth)… sensor data (e.g., data about the speed of your movements, such as whether you are running, walking, or in transit).

.. USE AND SHARE WITH OTHER COMPANIES IN THE SPOTIFY GROUP … BUSINESS PARTNERS AND SERVICE PROVIDERS, … OUTSIDE OF THE COUNTRY OF YOUR RESIDENCE (INCLUDING COUNTRIES WHICH DO NOT PROVIDE THE SAME LEVEL OF PROTECTION FOR THE PROCESSING OF PERSONAL DATA AS THE COUNTRY OF YOUR RESIDENCE), … EVEN IF SUCH INFORMATION IS COVERED BY LOCAL BANKING SECRECY LAWS. … YOU EXPRESSLY WAIVE YOUR RIGHTS UNDER SUCH BANK SECRECY LAWS WITH REGARD TO SPOTIFY, ANY COMPANY IN THE SPOTIFY GROUP, AND ANY TRUSTED BUSINESS PARTNERS AND SERVICE PROVIDERS, WHICH MAY BE LOCATED OUTSIDE YOUR COUNTRY OF RESIDENCE. THIS CONSENT IS GIVEN FOR THE DURATION OF YOUR RELATIONSHIP WITH SPOTIFY. [in other words, can't be canceled?]
I'm sure there's more I don't like, but I stopped reviewing the policy here.
The post at Forbes claims this update was pushed out to users today. It has not been pushed to me yet. As soon as it does, I'm out.
Rule #1: if you are under competitive pressure from Apple or whoever, do not piss off your existing users. And in my view, personal data rape does not make for good relationships.
Bye.